October 2018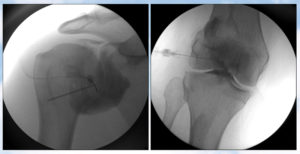 More than 54 percent of Americans over the age of 18 are affected by some kind of bone or joint condition, including trauma, back pain, arthritis, and osteoporosis. Three out of four people over the age of 65 suffers with a bone or joint problem.
Musculoskeletal conditions become more prevalent with age, arising from poor posture, repetitive strain, injury, and poor fitness/health habits. Bone and joint problems are not only painful, they can be disabling. In fact, musculoskeletal conditions are the most common cause of severe long-term pain and physical disability worldwide, affecting hundreds of millions of people.
Oct. 12-20 is worldwide Bone and Joint Action Week, a time to focus attention on the most common diseases affecting the bones and joints. The first step in treating bone and joint diseases is diagnosis. Often, medical imaging, in the form of CT or MRI scans is involved.
Lexington Diagnostic Center and Open MRI is the area's only free-standing, locally owned, private diagnostic imaging center, offering state-of-the-art diagnostic imaging and therapeutic services, including:
Epidural steroid injections to reduce back or leg pain
Joint injections to alleviate pain associated with arthritis and other degenerative conditions
MRI and CT arthrograms to help pinpoint the cause of ongoing pain
Financial planner David Short, managing partner at Investments and Financial Planning, LLC, suffered ongoing shoulder pain off and on for more than six years. This spring the pain came back, but this time, it was severe. His primary care physician ordered an MRI arthrogram and recommended Lexington Diagnostic Center and Open MRI for his study.
During the test, musculoskeletal radiologist Jason Harris, M.D., injected a local anesthetic into the shoulder joint, followed by a special dye (contrast), that allows soft tissue, such as ligaments, cartilage, and tendons, to be imaged more readily. Short then had an MRI of his shoulder, which showed a partial tear in his labrum and damage to his rotator cuff. After a few months of physical therapy, Short is feeling good as new…and wishing he'd gotten things checked out sooner.
"At Lexington Diagnostic Center we pride ourselves on pinpointing our patients' specific health issues, so they can receive proper treatment. We treat everyone like family and try to make the process as easy as possible," Dr. Harris said.
For his part, Short is pleased with his experience at Lexington Diagnostic Center and recommends it to others requiring diagnostic imaging.  "They treated me very well from the first phone call, through the whole process. It was a very professional environment," he said. "Not only was it quick and pain-free, it was affordable, as well," he noted.
Lexington Diagnostic Center has been providing high-quality, low-cost services to area patients for 34 years. Patients choose Lexington Diagnostic Center for many reason: convenience, comfort, quality, satisfaction, and price. Lexington Diagnostic Center offers a full range of diagnostic imaging services: MRI, CT Scan, nuclear medicine, ultrasound, DEXA Scan, and general x-ray testing.
If your doctor orders imaging studies for you, be sure to call Lexington Diagnostic Center first at (859) 278-7226 to find out how they can help you get back to health – and doing the things you love – as quickly as possible.